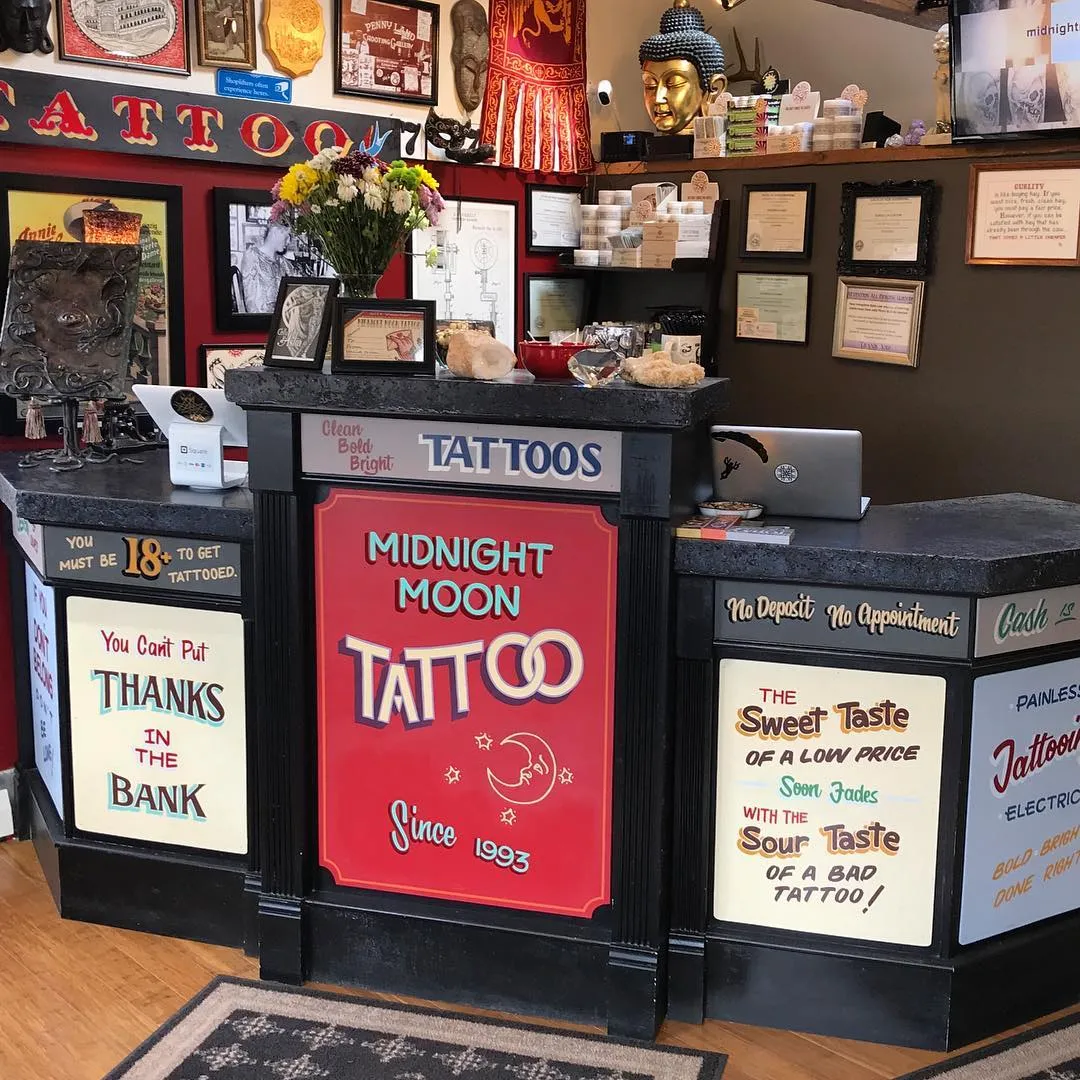 Award-Winning Artists
Here you will find undeniably some of the best tattoo artists in the Lakes Region. And of course absolutely stunning tattoos as well. Whether you are a seasoned tattoo collector or taking your very first steps into the world of body art, Midnight Moon Tattoo is here to exceed your expectations.
Stunning Location
You will find us located on beautiful Lake Winnipesaukee in Meredith, New Hampshire. With our crew of amazing artists, we are able to offer tattoos in several different art styles. These include Japanese tattooing and blackwork realistic portraits. As well as graphic style tattooing, American Traditional, and illustrative style tattoos.
Come Visit Us
Many of our clients travel far and wide to visit our studio. Check out our Plan Your Visit page and make a long weekend out of it! When you visit our studio, you will start on a journey to create an amazing tattoo.
Must-Know Tips for an Excellent Tattoo Experience
Check out our Important Information page to learn what to expect in the appointment process here at the studio. Above all, you can trust the experts here at Midnight Moon Tattoo to turn your vision into an exceptional work of art that will last a lifetime. Tuesday – Saturday: 10am – 6pm
Sunday – Monday: CLOSED
56 NH Route 25
Meredith, New Hampshire, 03253
Body Piercing & Fine Jewelry
Association of Professional Piercers Member Studio
Siren Body Piercing is the only Association of Professional Piercers (APP) Member studio in the Lakes Region. We proudly offer a full range of body piercing services performed with the highest quality body jewelry. And all this is done in a family-friendly, safe, and inclusive space.
All Are Welcome
From the moment you enter our studio, you will be immersed in a warm, positive, clean environment. Michaela has over a decade of knowledge and experience in the piercing industry. She is dedicated to helping you achieve the piercing look of your dreams.
Do you love tattoos and piercings? Want to know how to get ready for your tattoo appointment? Then you really should check out our fun and informative Blog Page. There you will find great information and cool stories on all subjects tattoo and piercing-related!
Tigers in Tattooing: Exploring the Symbolism Across Cultures Tattoos have been a cultural practice for centuries. They showcase unique designs and symbols that hold deep meanings in various societies. One of the most iconic images that has consistently made its way...
read more
Tattoos have become a part of mainstream culture in recent times. They are more popular now than they have ever been before. People from all walks of life are getting them. Whether it's to express themselves artistically, commemorate a moment in their lives, or simply...
read more
IMPORTANT TATTOO
Aftercare
Now that you have received your tattoo from one of the best tattoo artists in the Lakes Region, you want to take good care of it! From this point on, it is your responsibility to properly care for your new tattoo. Therefore it is very important that you follow these basic guidelines for proper healing.

56 NH Route 25
Meredith, New Hampshire, 03253
1.603.279.3311
nhtattoo@gmail.com
Tuesday – Saturday: 10 am – 6 pm
Sunday – Monday: CLOSED