siren
Body Piercing
Fine Jewelry and Body Piercing Studio
Children's Ear Piercings
Siren Body Piercing is honored to offer the same professional piercing service for children's ear piercings. We believe when your child receives their first piercings, it is a very big moment in their life. Therefore it is our goal to give them a wonderful and safe piercing experience they will remember. As well as beautiful piercings to cherish for a lifetime to come.
The Process
We pierce children's ear lobes at 6 years of age and up.
We do require your child to be able to ask the piercer, in their own words, to get their ears pierced. This empowers your child to know they are making this important decision themselves. It also shows that they have been talking to you (a parent or guardian) about getting the piercings. And shows us they are mature enough to have some understanding of what will be involved in having them done.
We take great care to walk your child through the entire piercing process.
It starts with them choosing their own jewelry from our huge selection of implant-grade body jewelry. Then they get to be part of the marking process and choose where they want their earrings placed. And finally, we talk them through all the steps of the actual piercing procedure so they are fully informed and comfortable from start to finish. 
And let's not forget that we also explain to your child how to care for their new piercings (with mom and dad's help of course). We want to ensure your little one has thier piercings for a lifetime. To read over the what to do and what not to do with new piercings please read our Piercing Aftercare page.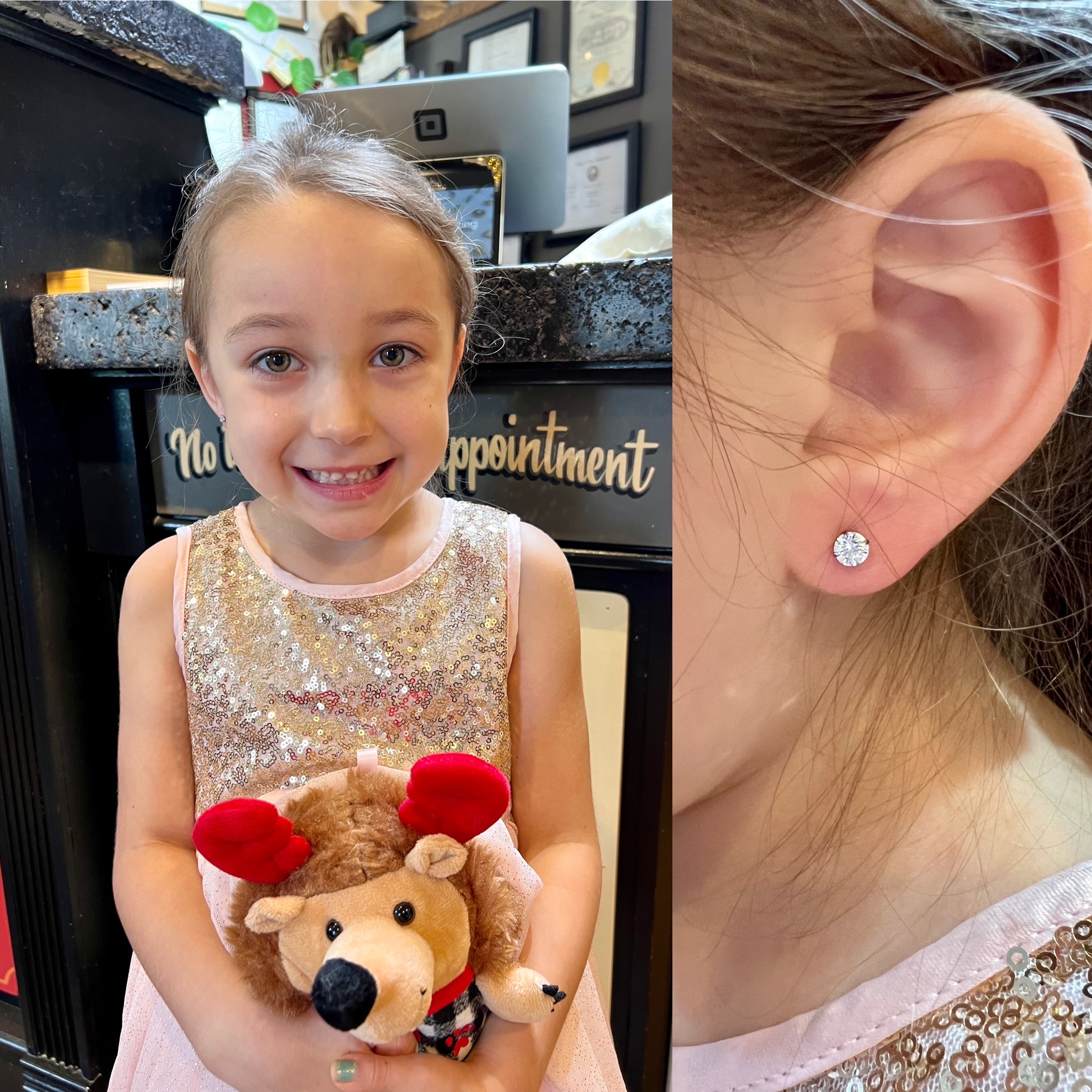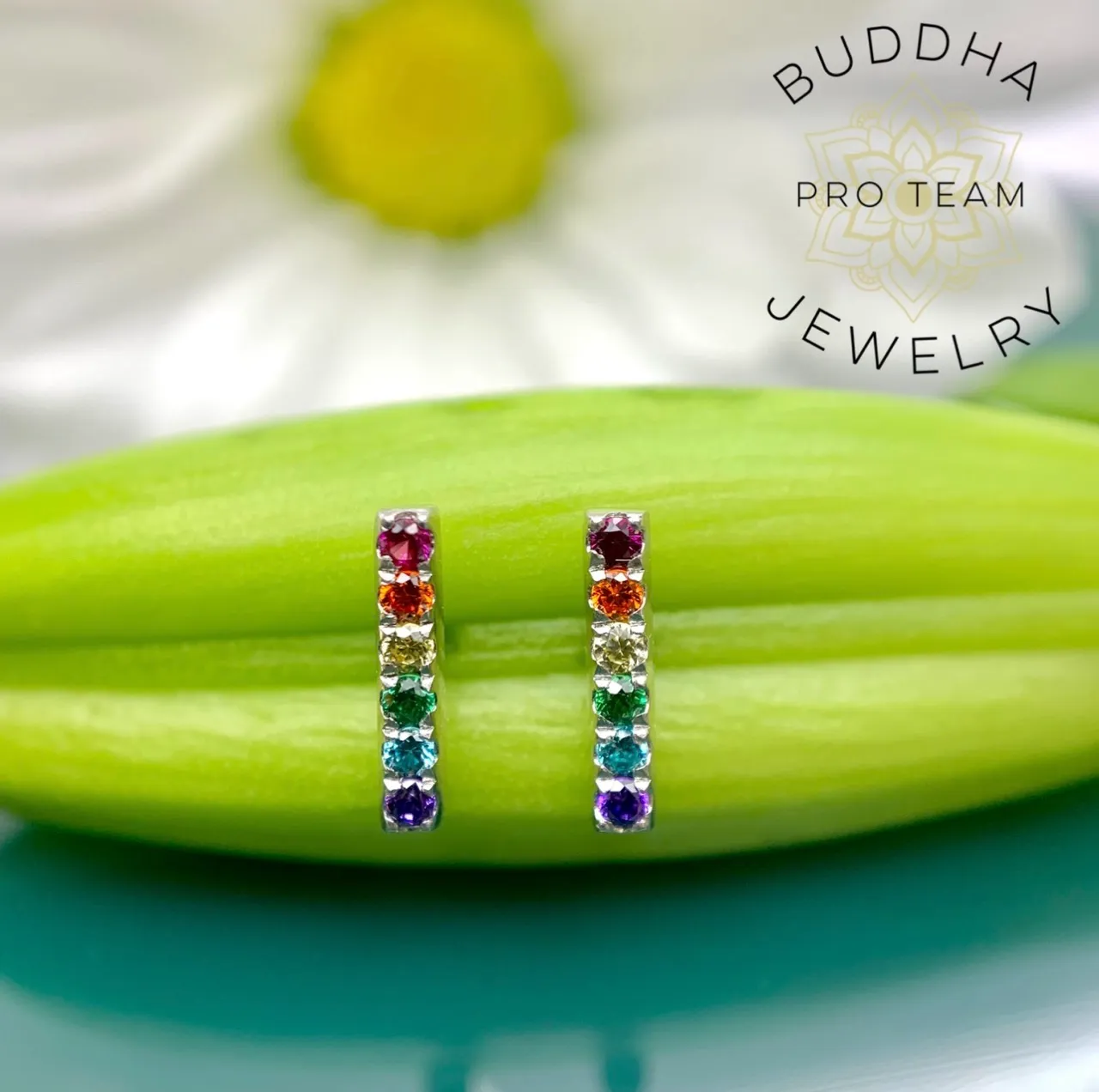 High Quality Jewelry
Our children's earlobe piercings are done with the highest quality piercing needles, not with a piercing gun.
Piercing needles cause only minimal trauma (the piercing hole) to the ear lobe and do not create the excess shock, trauma, or complications caused by piercing guns.
We are also here for all your questions, help, or advice for the lifetime of their piercings to make sure healing goes smoothly and to help with any future jewelry changes if needed
We will always do our best to ensure your child leaves with beautiful piercings and a smile on their face
Requirements
ID Requirements for Minors:
-Please see the details listed on our Appointments page.
An important thing to consider before scheduling your child's ear piercing appointment
We are so excited your child feels they are ready to have their ears pierced! And we want to ensure this will be a positive and rewarding experience for them. To do this we need you to be sure they are able to follow a few simple steps that will be part of the piercing procedure.
Your child needs to be able to follow instructions and sit very still throughout the piercing procedure.
We know that even though they are very excited to get their ears pierced, this can also be a very scary thing to some little ones. Michaela has over a decade of experience piercing children's earlobes and is very skilled at keeping your child calm and engaged throughout the entire process. But they will need to be able to sit very still when the piercing is being performed. This is for both their safety as well as Michaela's and will prevent the possibility of a needle stick. A needle stick can result in the transmission of bloodborne pathogens, hospitalization, and a lifetime of illness. We need to eliminate the possibility of needle sticks at all times.
Your child needs to understand they cannot touch their new piercings during the healing process, apart from when they are cleaning them.
Humans touch everything in our environment, especially curious kiddos. Your child needs to understand even though their hands may look clean, they are not clean. And touching their new healing piercings with unclean hands increases the risk of infection by introducing bacteria to an open wound. They need to understand they should not be touching their new piercings unless they have just cleaned their hands and are in the process of caring for the new piercings.
If your child is unable to follow these instructions, they may not be ready for new ear piercings. And that is ok.
It is better to wait until they are truly ready to have their ears pierced than to risk having a poor experience or issues healing their new piercings.
And if you have any questions regarding the ear piercing process for minors please don't hesitate to reach out via email or give us a call at 603-279-3311.
Contact Us
The best way to schedule your piercing appointment is to give the shop a call directly at 603-279-3311. You are also welcome to fill out the form if you have any questions prior to making your appointment.
We do take walk-ins for piercings if our schedule allows for them, but we do HIGHLY RECOMMEND scheduling an appointment for all services. This includes new piercings, post-shortening, or jewelry swap-outs. As well as purchasing new jewelry whether you plan on having it installed at the studio or not.