Midnight Moon Tattoo
Est 1993
Who We Are
Midnight Moon Tattoo is New Hampshire's premier tattoo and piercing studio, established by Mathew Clarke in 1993. Mathew also holds the oldest active tattoo license in the state of New Hampshire.
Our Mission
Our primary goal is to provide professional, safe, and knowledgeable tattoos to the most discerning clientele. Entering our studio you will find a safe, comfortable, and inclusive environment making your experience a positive one.
Our Culture
Over the past three decades, we have cultivated a safe space where all are welcome. And in doing so, creating a place everyone has equal access to top-quality tattoo work from one of our many talented artists. Each of the artists within the shop brings their own set of skills and talents. We offer diverse tattooing styles such as Japanese Tattooing and Realistic Portraits of beloved pets and people. As well as American Traditional Tattoos, Graphic Geometric Tattoos, and Whimsical Illustrations. Here at Midnight Moon Tattoo, we are excited to help pair you with the artist that will best suit your tattoo needs. Please feel free to view our artist pages, follow their social media accounts, and if you have any questions, just ask.
Start to Finish Excellence
Our awesome receptionist is available to answer most of your questions or set you up with a consultation. They will also be able to speak with your artist during the workday to get your needs met in the most efficient manner possible. All of our artists work different schedules within our business hours. That said, it may take a few days for a particular artist to respond to you directly. Although we are busy with clients and drawings, we do our best to answer your emails and return phone calls within a few business days. If you should call and get the voicemail please be sure to leave your number and a detailed message. We promise we'll get back to you soon!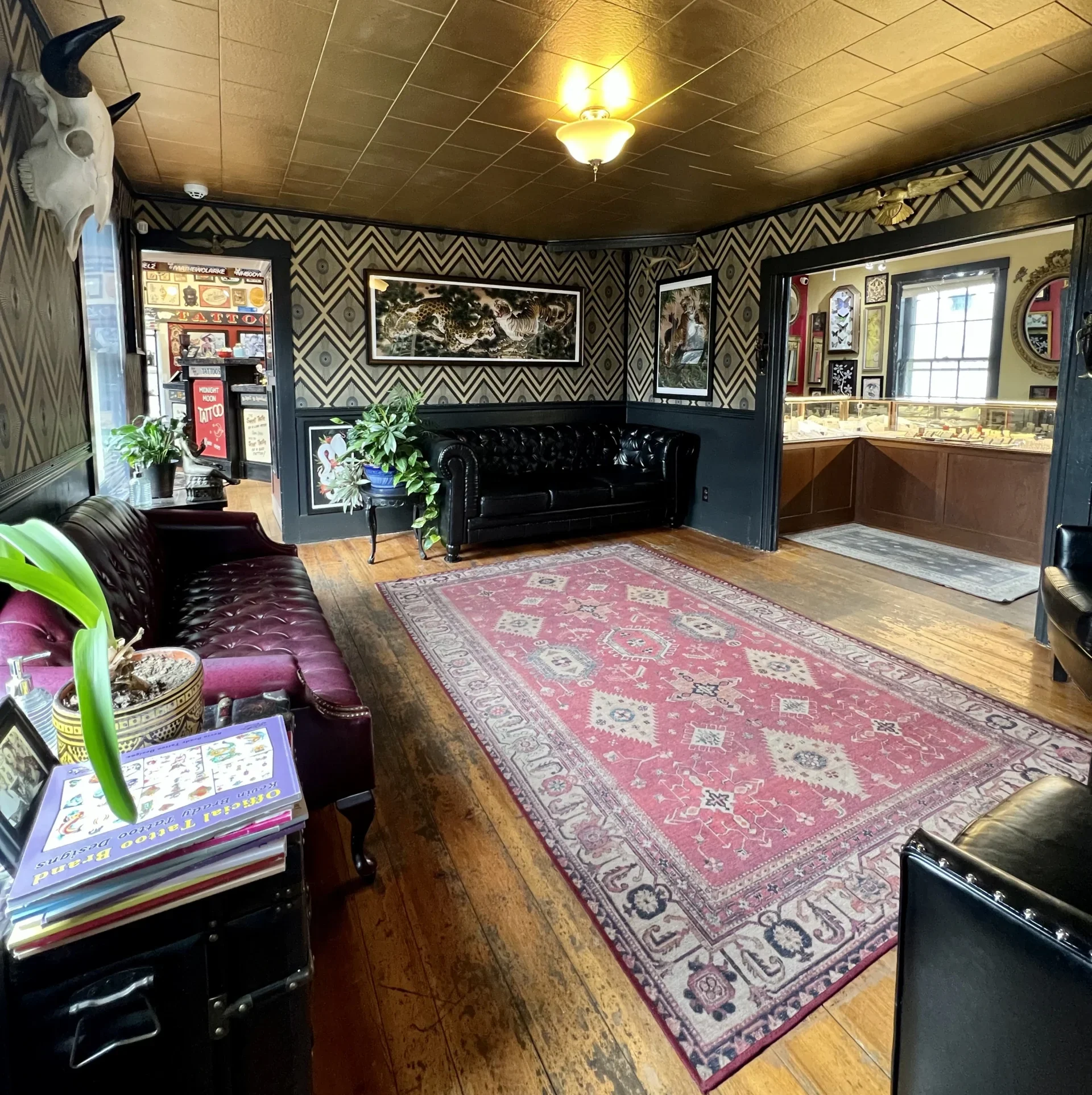 Julia Tremblay
2023-07-12
I absolutely love the tattoo I got today from Amber. It was my first ever tattoo and she made the whole experience so calming and safe. She told me to do certain breathing exercises during the tattooing to help with the pain and it worked! She was happy to make the adjustments I wanted to ensure the tattoo was exactly perfect for me. Amber nailed it and gave me exactly what I wanted. I cannot recommend her enough! Shelby came up to the room about halfway through and asked us if we needed anything, very sweet of her, and she was very helpful and welcoming at the desk. I have gone before to Midnight Moon with my sister to see her get her first few tattoos and Amber was nothing but bubbly and happy. It's great to see her enjoy her career so much, it shows in her art. I cannot wait to get more tattoos done by Amber.
Had a little of an emergency with my nose ring while on vacation and staff and crew were amazing!!! I called right when they opened got me in asap! They were so fair and kind to my face 😁
Got my first tattoos done there today - Amber was awesome! Answered all my questions, super informative and wonderfully detailed and professional work. And for scheduling & customer service and general questions, Shelby was great! Will be back soon!
Mikki Corriveau
2023-06-25
Absolutely over joyed with the tattoos we received today from Amber. Very good communication with what we wanted. She made sure she met the needs of what we asked for but added her knowledge of tattooing and artistic skills to make sure we will have long lasting and meaningful pieces. The staff overall as always was so kind and helpful. They came to check on is and make sure we were comfortable as we were there for 8+ hours with multiple people and multiple pieces. We are return customers and will be back again. Thank you again Amber Quarts and the staff!
Lauren Anzalone
2023-06-24
I absolutely love this place! I first went to Siren Body piercing and got my nose pierced by Michaela Clarke. She was so knowledgable, kind, patient, and guided me through the whole process, including aftercare. Later I returned for 4 tattoos. I went to Amber Quartz for a large floral back piece, a thigh piece of a cursive quote, a butterfly on the back of my arm, and small roman numerals on my wrist. Amber has been outstanding! In consultations and during the actual appointments she was so sweet, patient, knowledgable, and funny. I felt so comfortable with her and she really listened to everything I said. Wonderful establishment with great artists, cool vibe, and super clean!
Got my septum pierced here over a year ago! Healed great & I love it! I will say be prepared to drop a little more than you might usually on the jewelry, but I can say I lost the nose ring that it was pierced with & I have never found one I liked as much since, (so the bit extra is definitely worth it!)
Everyone I dealt with was amazing. Booking was easy, and Robert did amazing work. Great tattoo
Awesome people, great ambience, fair prices. Drove an hour and a half to get there and was NOT disappointed!!!
The artist I saw (Robert) did an amazing job. I always get compliments on my tattoo.
Cecilia Murphy Murphy
2023-04-15
My second trip to this location; I was there for a brief consultation. They have a lovely selection of piercing accessories and a very comfortable waiting area. The staff is always friendly and very pleasant to work with.

56 NH Route 25
Meredith, New Hampshire, 03253
1.603.279.3311
nhtattoo@gmail.com
Sunday – Monday: CLOSED
Tuesday – Saturday: 10 am – 6 pm