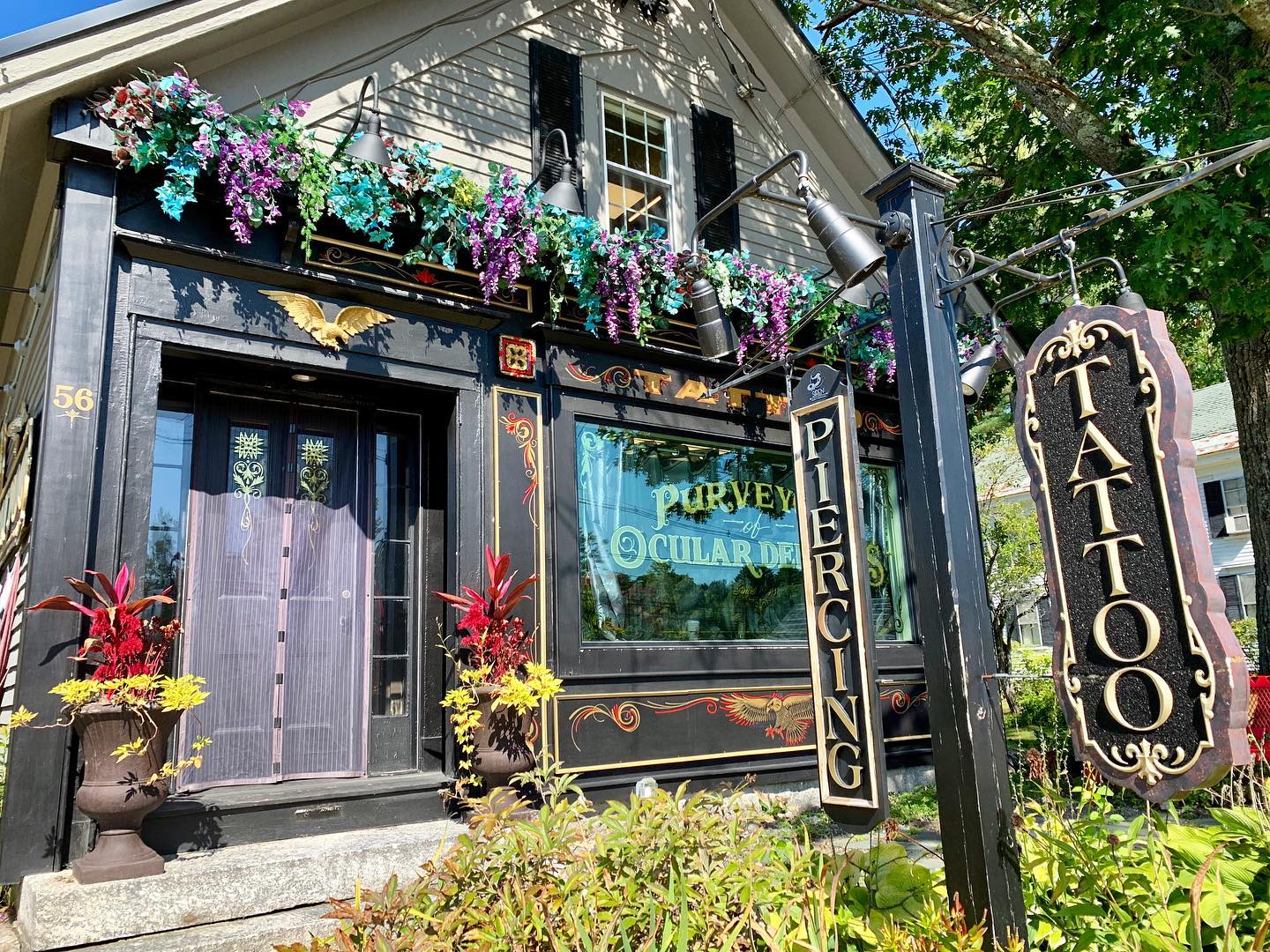 Our hours are Tuesday – Saturday, 10 am – 6 pm. We are located at 56 NH Route 25, Meredith, NH 03253. 
Midnight Moon Tattoo
Established 1993
  Midnight Moon is New Hampshire's premier tattoo and art studio. Established in 1993 and holding New Hampshire's oldest active state tattoo license, we set out with the goal of providing professional, safe, and knowledgeable tattoos to the most discerning clientele. We continue to provide professional service in a comfortable environment to make your experience a positive one. Over the past three decades, we have cultivated a space where all are welcome and have access to quality tattoo work from one of our many talented artists. Each of the artists within the shop brings their own set of skills and talents. From Japanese sleeves to portraits of your beloved animals, traditional tattooing, and graphic mandalas to whimsical illustrations, We at Midnight Moon are excited to help pair you with the artist that will best suit your tattoo needs. Please feel free to view our artist pages, follow their social media accounts through the links, and if you have any questions, just ask.
Our awesome receptionist is available to answer most of your questions or set you up with a consult. Our receptionist will also be able to speak with your artist during the workday to get your needs met in the most efficient manner possible.  All of our artists work different schedules within our business hours. That said, it may take a few days for a particular artist to respond to you directly. We are often busy with clients and drawings during the day and we do our best to answer your emails and return phone calls within a few business days. If you should call and get the machine please be sure to leave your number and a detailed message. Please be patient, we'll get back to you soon!
I've gotten all my tattoos at different places - I've now found my place. These are experts and the work reflects that. My tattoo is gorgeous. Cannot say enough good about this place. Super welcoming and super professional.
Currently working on both my sleeves with a couple of guys at this shop. Extremely clean, professional and high quality work. By far the best tattoo shop anywhere near here, I wouldn't recommend anything else. You guys are great.
Amazon work. Mat, is extremely professional. Very clean tattoo parlor. Highly recommended!!
My experience with Michaela was the best piercing experience I've ever been had! From the moment I walked into the door she made me feel extremely comfortable. She's very kind, calm, and thorough. She talked me through the whole piercing process and answered all questions I had. I'm excited to have found such an amazing piercer in such a beautiful location. I couldn't recommend her enough. I'll be back for sure!!
Tim did an amazing job! Captured Bailey perfectly.
Francis did an amazing job with my tattoo idea. I'm so happy with the outcome. And such a pleasant person to deal with. This is my second visit to the shop and always happy.
Got my nose and helix pierced and Michaela was wonderful, very professional and friendly. Explained the whole process so that I completely understood and made sure I was comfortable. Clean sanitary environment would highly recommend
I got my first tattoo here and I can't believe the amazing work done by Robert! He was so professional about the tattoo process and was able to answer all my questions and more! I was so relaxed during the session that at times I didn't even realize he was even tattooing! If you want a professional experience and great work done this is the place to go! Definitely worth every penny! Will definitely be seeing Robert again soon!
This is hands down the best tattoo and piercing shop you'll ever walk into. Every artist is incredibly skilled, their piercer Michaela is amazing, and their receptionist Shelby is so nice and always helpful. I saw Francis for my last few tattoos, though I've been to Robert and Timm for others, and every one is so well done. I've also gotten pierced a few times by Michaela, and they've always been perfectly fitted to my face/ears. Their work is worth every penny, I highly recommend checking them out if you're looking for high quality art!
My mother and I came in to Midnight Moon to get our first ever tattoos done, and we couldn't have had a better experience! To start, we were impressed by the cleanliness and cool vibe of the shop. The woman at the front desk was friendly and very helpful in recommending the artist that was the best fit for our tattoo design. Our tattoo artist, Amber, was absolutely fantastic! She worked with us diligently, listened to our ideas and tailored the design until we were all throughly satisfied and excited about it. We felt like her experience, attention to detail and artistic eye all really contributed to getting the tattoo we had hoped for. We were also impressed that she took the time to work with us on the exact placement of the tattoo. Amber also made the actual application of the tattoo easier than we had imagined. She's a very skilled artist with a warm and friendly personality, and we would highly recommend her! We also appreciated the detailed information the shop provided regarding the healing process. Overall, our first time experience couldn't have been any better! We're both so happy that we chose Amber and Midnight Moon!
By far the best experience I've ever had a piercing shop, took so much time to get everything right and perfect, sanitation was amazing, overall awesome experience
56 NH Route 25
Meredith, New Hampshire, 03253
1.603.279.3311
nhtattoo@gmail.com
Sunday – Monday: CLOSED
Tuesday – Saturday: 10 am – 6 pm